Let's talk equipment! Not the most exciting topic for a lot of people, but there are things you need to know to … Having the right equipment in your shop can not only mean more efficient working but also is safer. All of this leads to giving your team the best possibility of doing the job right, first time!
As you're either designing, building or updating a facility, equipment is a necessity to doing the job right.  You know from your own experience if you've ever had the unpleasant task of dealing with poor quality or unreliable equipment – and I know you have so keep reading!
In general, most modern equipment across the world is pretty good right now, but that doesn't mean there are differences that should be taken into consideration when choosing equipment for your facility. For the purposes of this article I will stick to what I'm seeing in North America, not for any other reason than depending where in the world you are, the support varies and so do the equipment standards.
Here are the seven main areas of equipment – including a section on benches and doors as they have an impact on efficiency. Let's start with hoists.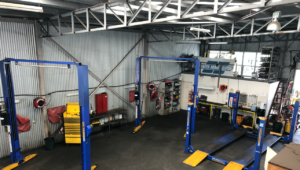 Hoists
This is one piece of equipment you don't want to compromise on quality. Don't confuse quality with price! The price doesn't necessarily impact the quality, so it means you need to know the purpose of your hoist. It's not a one size fits all scenario.
Two-Post
The mainstay of the workshop and depending on what you are working on you may need hoists of differing capacities and designs. If your shop is predominantly servicing light or heavy-duty trucks, then you probably don't need a sportscar-type two-post hoist. On the flip side, if you're repairing sportscars you won't want a truck hoist or a two-post hoist with large square arms because you won't get the arms under the car, or you'll be driving on to wood block to get the pads under the car. All this extra effort means extra time which means loss profits.
When looking at two-post hoists, I lean toward an asymmetric design that has a shorter front arm and a longer rear arm. This will allow easy access to the driver's seat when the vehicle is on the hoist, the door can still be opened to start the engine.
Also, go for a hoist that with without a drive-over chain or base because this allows the uprights to be set wider for easier use. When considering the size of working bays, the best practice is to be over 14 feet, ideally closer to 15 feet. This will give the workshop an uncluttered and open feeling that will be more productive when working.
Additional items you'll definitely want to connect to the hoist are:
Battery charger (more about these below)
Power outlet (at least 25A 110V)
Power outlet (at least 50A 240V)
Compressed air outlet
There are also some manufacturers that offer faster motors such as Rotary's Shockwave System, which is particularly useful for fast service bays.
Inground
This hoist by far gives the cleanest look in the workshop, however there are some cautionary guidelines to be aware of before deciding if an inground hoist is for you.
Most manufacturers of these hoists space the lifting cylinders at 1,800 mm (70"). Why is this important?
As the industry sees more electric vehicles on the road with batteries that either completely cover or obstruct the underbody – you won't be able to service these batteries or remove the undercovers easily using an inground hoist.
However, the good thing is most hoist manufacturers now offer a wider version of their inground hoist to solve this issue. The hoist is a little more expensive, but in my opinion completely worth the additional investment given that this is the most used equipment in the store and electric vehicles are here to stay.
Four-Post
These hoists are usually easier to manage the choices but pay attention to the size of the runways. If your runways are too wide then working on this hoist will make for an awkward user-experience, especially if you're working on regular sized vehicles for most of the time. I recommend getting a lighting kit when using a four-post hoist and a strong jack for those times that you need to get the vehicle wheels free.
If you're using the four-post for wheel alignments be sure it meets the specifications of a wheel-alignment hoist. Alignment hoists require an incredibly accurate set up – within two to three millimetres meaning accuracy is imperative. You'll have poor results using a regular hoist for this job, which is why these specialised hoists are priced the way they are. Some wheel alignment manufacturers have integrated features on their alignment hoists. This doesn't make them better, just a little more integrated so you can control features on the hoist from the alignment software. I've used both and I have to say I'm still on the fence if the additional features are a benefit.
Air Systems
Whether we talk inexpensive piston compressors or screw-type compressors, this part of the industry is arguably one of the most reliable, but the biggest pain if it breaks, or certainly that used to be the case before the introduction of Li-Ion batteries.
As we see more technician tool kits being driven electrically, the need for huge reserves of air in the system may not be  needed. If you have, or are considering air doors then this will play a part in how your air system is configured and how the reserve system or back-up system might look. I normally suggest for repair shops to have a main and then a small back up, both feeding a common system.
There are some innovative designs for air lines around the building, running up to four inches in diameter, this volume is then calculated as stored air, which will reduce the cycling of the compressor and increase the reserve of air that's instantly available.
A critical component for a modern workshop is to ensure the noise generated by the compressor doesn't disrupt the workshop. Therefore, a soundproofed room with ventilation to the outside or another unoccupied area is a must.
Wheel and Tire Equipment
Return on Investment (ROI) is key with all equipment, and wheel and tire equipment, represent for most workshops the fastest, or should I say most obvious payback calculation. Tires are profitable for a dealership and therefore the payback is easily tangible.
In recent years there's been a shift to fully-automated machines with Hunters TCR1 leading the way in the North American market – and although I haven't seen their latest "walkaway" version, I hear it's pretty special, especially if all of the wheels on the cars are the same size.
With so many options available, I tend to lean toward what I would call a semi-automated machine that will do the heavy lifting and guide the operator so the operator remains in control over every aspect of the tire change.
I recommend you look at machines with a wheel lift and some form of centre clamping device. Unless in perfect condition with perfect grip, outer rim clamps or "jaws" tend to slip when mounting high-performance tires or when the wheels are wet causing damage to the painted surface of wheels or damage the alloy itself.
There's almost as much choice in balancers as there is in tire changing equipment. From auto balance to vibration balancing to balancing under load, sometimes called road force. Although this is Hunters version of balancing under load, other manufacturers use a similar method for the measurement.
I would again opt for a machine with a wheel lift rather than one without, it just saves back on the heavy wheel assemblies. The loaded measurement is only good for a vibration that is not able to be diagnosed, which I've always managed to do with swapping wheels side to side or back to front. Some tire manufacturers require this balance under load for warranty and some OEM's require one of these balancers, so make sure whatever balancer you opt for, it meets your OEM requirement.
Parts Cleaners
Simple, a solvent tank I hear you say? No.
These machines use things like Kerosene, gasoline or diesel-based solvents to de-grease. In fact some manufacturers don't recommend solvent cleaners as they can damage integrated seals in their components such as rocker covers and gearbox housings.
During my apprenticeship, we had a solvent tank and still today dealers are cleaning parts using one of these solvent-based tanks.  You still need to rinse off the part you've cleaned, so they are pretty good at removing grease, but they are completely inefficient from an overall process perspective. I remember cleaning parts, then having to go to the detail bay to clean the part with high pressure water before fitting it. Thankfully there are some amazing alternatives out there to the archaic solvent systems.
Organic and water-based solutions use the same tank system, but the chemical is different and uses an alkaline solution to clean the parts. These can come in similar designs to the old solvent tank or they can sometimes look like large dishwashers. These "dishwasher" type machines increase the efficiency of the solution by heating and spraying it onto the part. The other great advantage of the dishwasher type is that you load, start and can be doing something else while it is running and therefore adding efficiency and value.
Of course, the machine is more expensive to purchase than the smaller machines, but there are several companies that will lease the machine for free if you purchase the chemical from them, not to mention that your technicians can be on other parts of the job during the cleaning cycle.
There are also other options for cleaning parts such as medium blasters, commonly known as a sand blaster. These work extremely well but in the wrong hands can damage fragile or painted parts, so be sure to use the appropriate cleaning method for the part in hand.
Battery Chargers
From a cost-per-use perspective, this is the most used piece of equipment in the workshop. Industry standard is that all operations that take over 15 minutes should have a battery charger connected to the vehicle.
With the vast majority of recalls and workshop campaigns being software updates, it is critical that the voltage in the vehicle is stable. The only way to assure stability is to have an external voltage supply. I've long been a fan of Deutronics as a manufacturer, their reliability and quality are second to none in the industry. This is not to say there aren't other quality manufacturers, but with the industry turning to Li-Ion starter batteries, you need to ensure whichever charger you choose can handle all the battery types you might be working on in the coming years. Understanding this reality makes most lower-end chargers obsolete and not worth the investment.
Bench Systems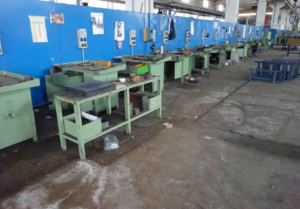 Why are we covering bench systems here? Well, not only do they contribute to the aesthetic of the workshop, but they also contribute to the efficiency of the workshop.
Be wary of manufacturers claiming they have the "most" storage. In a well-run, properly organised workshop, there's no need for excessive amounts of storage on a technician workbench.
The important items you should keep in mind when thinking about a bench system are as follows
Space for a computer
Great lighting
Storage for everyday tools
Battery charger (if not fitted to your 2-post hoist)
Oil drainers and AC machines can also be stored 1 per 3-5 bays depending on the use of the workshop.
One other item I've discovered to increase the overall efficiency of the workshop is the integration of sinks every three to five bays. This ensures hand cleaning is accessible for the team so they're not leaving the workshop to clean up – an added efficiency.
When designing your workbench system, it's key to think about the processes in place and to ensure your workplace is as efficient as possible.
Doors
Doors are integral to workshop design and if not properly chosen can cost money and create barriers to your efficiency over the long term.
In a modern workshop it's recommended to have a temperature-controlled workshop for both heat and cooling. And all your efforts will be in vein if you have slow doors that let all that heat out in the winter or cool air out in the summer.
Fast doors come in either electric or air powered and although these are more expensive to install, they will pay off in no time due to efficiencies in both workshop and heating/cooling costs. In the drive through, a fast door is your customers' first impression of your service department. As odd as it may sound, it can be your first "wow" moment with your service customers.
If you are thinking of renovating or building a new facility, IAC offers consultancy services for your needs, ensuring the equipment you choose is both suitable and on budget. Give us a call at +1(647) 449 6311 or email greg@intautoconsulting.com to chat about your project.